"Cobra Kai never dies."
Netflix has just released season 5 of one of the most popular series, Cobra Kai. Cobra Kai is based off The Karate Kid movies which which were first released June 22, 1984. Cobra Kai is what is going on but 30 years later.
The movie series from way back in 1984 is about a teenage boy named Daniel LaRusso, who got bullied by a bunch of karate's bad boys, Cobra Kai. Daniel would get punched and injured by them. Then he meets a man by the name of Mr. Miyagi. Little did Daniel know that he was a karate great from Okinawa.
When Mr. Miyagi sees Daniel getting bullied, he immediately teaches him self defense, and teaches him a totally different brand of karate. The bullies of Cobra Kai, lead by Johnny Lawrence, wouldn't let him train. Mr. Miyagi then made a deal with Cobra Kai sensei John Kreese. He enters Daniel in the under 18 All-Valley Tournaments without asking Daniel first.
The one condition Mr. Miyagi made was that Cobra Kai, had to let Daniel train. Then, after several months of training with Mr. Miyagi, Daniel competes in the tournament and wins.  He shocks Cobra Kai and the world.
Cobra Kai takes place 30 years later. Daniel has a wife named Amanda, and two kids named Sam and Anthony.  Johnny, Cobra Kai captain and champion, who also lost to Daniel in the championship, is a drunken alcoholic.  He does have a child named Robby. The only thing that is upsetting, is that Daniel's karate teacher and best friend, Mr. Miyagi has passed away. Daniel must learn to handle life's struggles on his own.  Daniel gets mad when he sees Cobra Kai posters all around the city.  When he learns Johnny is the one who started it, he's even more upset.  When the two meet again, tensions rise from 30 years ago.  Daniel then opens his own karate dojo called Miyagi-do Karate. He teaches kids who are getting bullied by Cobra Kai (like his daughter, Sam) how to defend themselves. Come tournament time, Cobra Kai wins the All-Valley under 18 tournaments.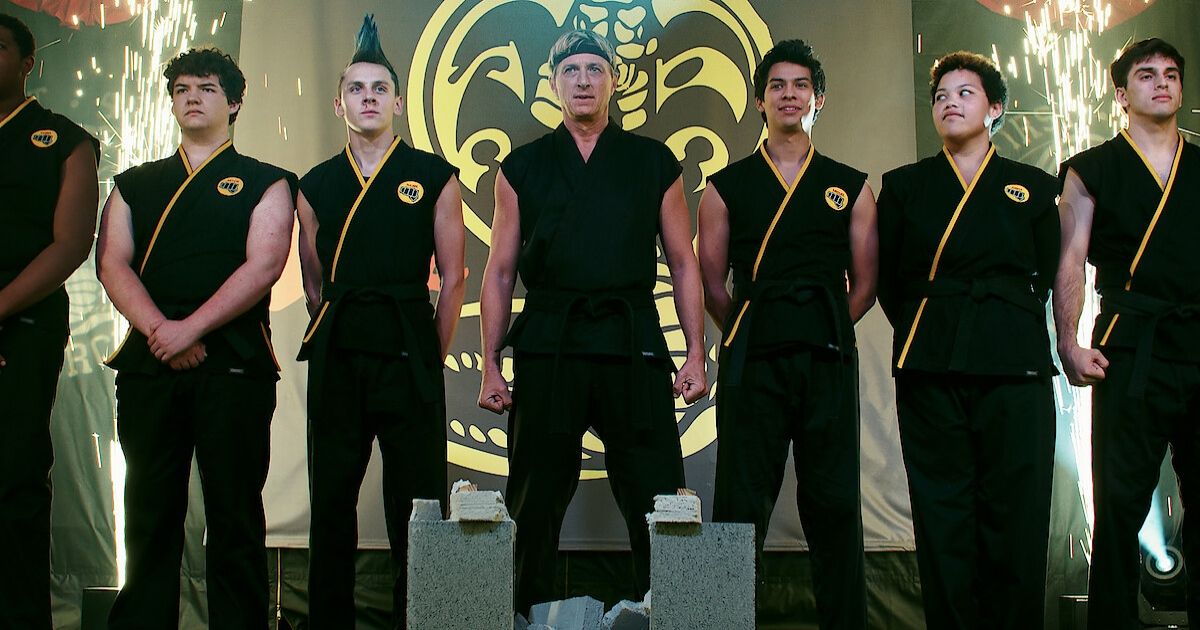 Seasons 2 and 3 of Cobra Kai is where the action starts to heat up. Cobra Kai and Miyagi-do Karate are expanding their dojos, and when you think it can't get any better, it does.
Former Cobra Kai Sensei John Kreese and Johnny Lawrence team up again. They are making sure Cobra Kai is back where it belongs, on top. Daniel is horrified when he learns Kreese has returned. All the Old memories are rushing back. Cobra Kai also has a new student, Tori, who turns out to absolutely hate Sam. Robby, Johnny's son, hates defending Champ Miguel. After training for months, we are getting closer to another tournament. An all-out war erupts in school. Sam and Tori are fighting, Miguel and Robby are fighting, and the rest of the people in the dojos are fighting also.  It gets bad when Robby kicks Miguel in the stomach near the railing and he falls down a whole floor.
In season 3, everyone mourns over the school fight, and wonders if Miguel is going to live or die. Miguel is in a coma so Johnny, and his family wait until he wakes up. When he wakes up, he immediately wants to begin training again.  After Miguel can finally start to train again, a party at the LaRusso house goes downhill. Cobra Kai shows up and tries to finish what they started at the school. The fight eventually is broken up, but John Kreese upsets Johnny, and he ends up joining Miyagi-Do-karate.
Season 4 of Cobra is a change. We see Johnny and Daniel trying to work together. Their goal is to destroy Cobra Kai. In an individual tournament, Hawk wins for the boys and Tori wins for the girls. After the tournament, we end season 4 with Miguel running away to find his father that he has never met.
Season 5 which is the most recent season that came out about a month ago, is where Cobra Kai gets interesting again. Daniel's old foe, Chosen, returns from his past to help destroy Cobra Kai once and for all. Cobra Kai is expanding their dojo. They bring in the top sensei from all around the world to help train their students. While they were doing that, Miyagi-do karate keeps training.
Terry Silver, the new Cobra Kai leader, wants to give Miyagi-do all the pain in the world. He and John Kreese teach no mercy to their students. Terry Silver was attempting to bring back karate bad boy Mike Barnes. Daniel and Chosen get to Mike first and he joins their side. Later, as Terry Silver and all his new sensei celebrate all they have accomplished, all the students and Daniel, Chosen, Johnny, and Mike all break into Terry Silver's house and try to take down Cobra Kai. It is an all out WAR. Mike Barnes is knocked down early, Johnny is almost beaten to death, and Chosen is stabbed in the heart.
As Johnny was getting severely beat up, all he could think about was his girlfriend and his new baby to come. He then gets motivated and takes out seven Sensei masters on his own. After all the chaos is over, all the sensei and students from both dojos gather in a circle to watch Daniel and Terry Silver go at it one on one. They fought to the death. They both threw punches at each other, both got thrown into a glass mirror, but it was Daniel who uses Miyagi-do Karate to take down the villain. Then the police all show up, and ambulances are everywhere, we see Chosen, walk by in serious pain, he had survived the knife to the heart. If you haven't seen Cobra Kai season 5 yet, I would highly recommend it, because it was one of the best endings I have ever seen.
Leave a Comment
About the Contributor
Logan Smith '23, Staff Writer
" people will hate you, rate you, shake you, and break you, but how strong you stand is what makes you"-LeBron James