Will the greatest sports sitcom ever return?
The League is a hilarious show about the obsession with fantasy football.
Fantasy football has begun and students all around Elder High School have been non-stop checking their teams on phones and tablets during class. Most people look forward to their draft and fantasy football season. But who has the most outrageous league in the history of fantasy leagues in any sport?
"The League", a canceled show that aired on FX, is about a group of fine gentlemen that like to take their fantasy football league to the next level. Kevin MacArthur created a league with seven friends from high school and his pot head brother Taco. What makes this show great is the pure raunchiness and luxury it brings to an audience that is an avid fantasy football playing base.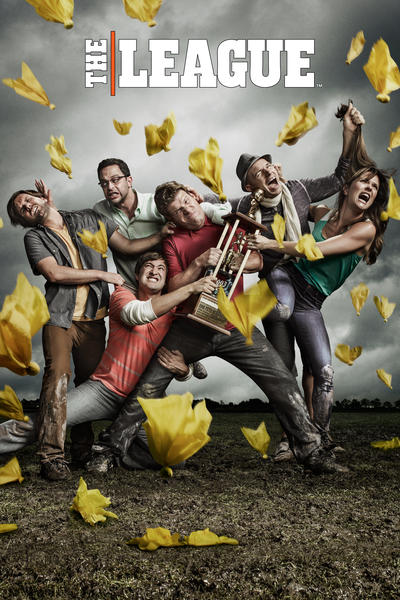 Kevin, brother Taco, Pete, Andre, and Ruxin at the start of season one, decide to have their draft in Las Vegas, NV and they have not decided the draft order so they decide the only logical way. The order will be chosen by the order of the first person to make it through airport security. This seem like a horrible idea. (it is) But for writer Dan O'Keefe, this was comedy gold watching grown men run through a gauntlet of people, metal detectors, security guards and bomb sniffing dogs.
Another reason this is the greatest sports show ever is the guest appearances made on the show. Since this is a football show it would only be right to have NFL superstars be guest stars on the show. Alumni include Chad "Ochocinco" Johnson, DeSean Jackson, J.J. Watt, and Jerry Jones just to name a few. Jerry Jones made an appearance when he invited the group to Dallas Cowboys training camp to negotiate a deal with Taco when he was able to get the URL Address "cowboys.com" Jerry ended up paying Taco $500,000.
The league will go to dark places whether it be trading players or placing side bets on games in their league. Kevin had a trade with Taco for his first round pick in the draft and in return Kevin offered Taco the naming rights of his new born son Christopher a.k.a. "Chalupa Batman" MacArthur. In another case, Ruxin and Kevin negotiate a trade by Kevin receiving Ruxin's first round pick for Kevin's 6th round pick and Ruxin's client (both men are lawyers) will get five years in prison for robbing three different liquor stores.
"You don't have to go to the third liquor store, just go to one. I stole a Kit Kat last week, nobody knows, you keep it small," – Rodney Ruxin
The League even with all the obscenities and the raunchiness is one of the greatest shows of all time and I am disappointed it was canceled. However, it is still being aired on FX and FXX and is also available on Hulu to binge watch when your team you follow is on bye.
Leave a Comment
About the Contributor
Gus Schlomer '21, Co-Editor in Chief


Quill Vet, trying to go to college for journalism. @stoolpresidente is my dad. I love you, Dave. Panthers by 1000.

"You'd never believe how hard...