Standing tall Barrett takes her place on the Supreme Court
As Judge Barrett radiates poise and intelligence in front of the American people, left-wing politicians and the media fail miserably in their attempts to brand her "unqualified."
In a win for the Trump Administration and Americans across the country, conservative judge Amy Coney Barrett, 48, was sworn in as the newest United States Supreme Court justice on Monday night after a 52-48 confirmation vote by the Senate. After weeks of criticism and ruthlessly being grilled in confirmation hearings,  Judge Barrett proved herself to be a both competent and worthy candidate to fill the vacant Court seat.
Barrett, an upstanding judge who has received praise from her colleagues at Notre Dame University, puts the Court at a 6-3 conservative majority, solidifying President Trump's promise to nominate more conservative judges to the Supreme Court. Rated "well qualified" to serve as a Supreme Court justice by the American Bar Association, Judge Barrett has an extensive and impressive legal career, including being a U.S. Court of Appeals judge, a clerk for the late Justice Antonin Scalia, and a professor of law at Notre Dame University. The fifth woman to serve on the Supreme Court, Judge Barrett is also the first mother of school-aged children to be appointed to the Court.
Judge Barrett's commendable personal life strongly reflects her Catholic values. Both Barrett and her husband, Jesse, are practicing Catholics, and they have seven children, two of them adopted from Haiti.
Nonetheless, Judge Barrett's long list of career accomplishments and admirable personal life did not stop Senate Democrats and the media from trying to slander her image and delegitimize her confirmation.
Since President Trump announced that he would be nominating Barrett to fill the late Ruth Bader Ginsburg's seat on the Supreme Court on September 26th, both he and Senate Republicans have faced harsh criticism by the other side of the aisle, with Democrats and the media making an argument based solely off of emotions that completely disregards what is written in the Constitution.
Democrats have argued that, since we are very close to the 2020 election, the next President should choose whom will fill the empty seat. However, the Constitution clearly states that the sitting President can nominate a judge to the Supreme Court at any time during their presidency.
In an absurd and baseless attempt to paint Barrett as unqualified, Democrats ridiculously hinted that her Catholic beliefs would get in the way of her duties to her country. Judge Barrett already stated back in 2017 that she would not allow her religious and personal views to interfere with her duties as a judge, a statement that seems to have flown over the heads of Senate Democrats and the liberal media, since one of their biggest objections to her confirmation is the possibility of Roe v. Wade being overturned.
Additional ludicrous statements made by Senate Democrats include the following: Senate Minority Leader Chuck Schumer (D-NY) continuously called Judge Barrett's confirmation "one of the darkest days in American history," Vice Presidential candidate Kamala Harris (D-CA) called the confirmation "illegitimate," and Senator Ed Markey (D-MA) described Barrett's approach to constitutional interpretation, originalism, as "just a fancy word for discrimination."
With Democrat politicians like Rep. Alexandria Ocasio-Cortez (D-NY) calling to pack the Court because things did not go her way, it is not Judge Barrett who poses a risk to the rights of Americans, as Democrats claim, but members of their own party, instead. Packing the Court will render the Supreme Court meaningless, turning it into a Democrat stronghold that will only rule in the favor of left-wing ideologies, disregarding whether or not they are constitutional.
Furthermore, the majority of American voters are in favor of Judge Barrett's confirmation. Around 51% of Americans supported her appointment to the Supreme Court, providing yet another reason why her confirmation was legitimate and in the favor of most Americans.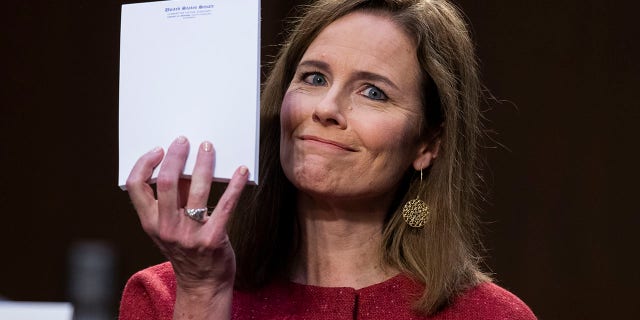 In what was likely the most memorable moment of the hearings and one that might have changed the minds of Americans who were unsure about their opinion on Barrett's confirmation, Senator John Cornyn (R-TX) asked Judge Barrett to show the committee what kinds of notes she had with her for assistance during the hearings. Barrett proceeded to hold up a blank notepad, indicating that all her information was already memorized.
Look, while you may not agree with Judge Barrett religiously or politically, it will be strongly beneficial to the country to have one of its top legal minds serving on our highest court. As noted above, Barrett has an extensive and impressive political career; calling her "unqualified" is foolish.
Judge Barrett represents an America where the Constitution and our freedoms are put first. As exemplified during her confirmation hearings, Barrett's intelligence, poise, and faithfulness to our country will benefit Americans deeply. Despite the attempts of the left to make her seem unworthy of holding a spot on our nation's highest Court, Judge Barrett has proved that her knowledge of our country's laws and Constitution, as well as her record as a legal scholar, have earned her a seat on the Supreme Court. Also, while she may be a devout, pro-life Catholic, she has already stated in the past that her beliefs will not interfere in how she rules on cases brought before her.
Although America may be as divided as ever, Judge Barrett is a breath of fresh air in our government, and she will be highly beneficial to our country, not just in the present but in the years to come, as well.
Leave a Comment
About the Contributor
Jack Sheridan '22, Co-Editor-in-Chief
"Whoa, woah...Lois, this is not my Batman glass" - Peter Griffin