Elder Really is "Long Snapper High"
A look into Elder Football's rich history of putting their long snappers in NFL and setting them up for success
It's no surprise that the Bengals' week one loss disappointed many. Indeed, their losing brought many flashbacks of the 2019 season to die-hard Bengal fans. However, this disappointing loss could have been prevented.
The Bengals had opportunities to win the game against the Pittsburgh Steelers via extra point and field goal, and these opportunities were missed and blamed on the Bengals' lack of the most forgotten position in football: the long snapper.
Bengals veteran snapper Clark Harris was out this week with a bicep injury, causing the team to turn to a tight end, Mitchell Wilcox to snap field goals and punts. This proved detrimental to their success, with Evan McPherson missing a game winner opportunity by way of the high snap.
This brings more light to an often forgotten position in the sport, one that may hit more close to home than expected for those who have connection to the west side of Cincinnati and our Elder High School's fabled football program.
You simply cannot talk about Elder Football without mentioning the NFL players that the Panthers produce. Although, it is rarely noted that a third of those guys are long snappers. Crazy, isn't it? Being that there are only 32 of them at a given time, I think many would agree it's odd that we've had two.
The older of the two is Mike Windt, who is only a couple years older than our most recent Jake McQuaide '06. Windt played his college ball at UC, where he would be a very reliable snapper through his 395 snaps in his college career. He then went undrafted in 2010 and signed with the San Diego Chargers from the Bengals practice squad. Windt stayed with San Diego (later Los Angeles) through 2019. Unfortunately, I could not get a hold of Mr. Windt, but my other attempt at contact was a smashing success.
The other NFL snapper the Panthers have produced is Jake McQuaide '06, who continued from Elder at Ohio State, where he made the starting lineup as a sophomore and was part of the Buckeyes' three consecutive 2007-2009 Big Ten championships. He too went undrafted and signed with the
then St. Louis Rams in 2011, where he snapped every game until 2021 when he signed with the Dallas Cowboys to reunite with Special Teams Coach John Fassel.
Now, McQuaide was much easier to get a hold of, considering he still hangs around Elder and Cincinnati in his very limited off-time. Being a long snapper myself, I got the opportunity to be trained by Jake McQuaide prior to the start of the football season, and I have many great things to say about his passion for the game and his expansive knowledge that he applies in coaching others. However, I wanted to find out how he got to this point, so I asked him through Mr. Bill's alumni network.
I wanted to start by asking him about his mentors. He mentioned his looking up to the likes of Bradley Glatthaar and the Kelsey brothers as a kid: names that still are brought up throughout the school today.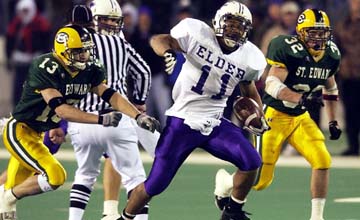 "A high standard set by those guys and passed on from one year to the next," McQuaide said, "While other kids grow up wanting to be Michael Jordan or Tom Brady, when you're an Elder kid you grow up wanting to be those Elder guys.  I think you feel the pressure to uphold that standard."
He then started to talk about his mentors while he was a student:
"Coach James was my tight ends coach, so he and I are close. I considered him a great coach at the time and a great friend now.  I have a ton of respect for him.  Kyle Rudolph was a sophomore when I was a senior, and no one would have questioned him playing Kyle full time as the sophomore sensation he was. But Coach James had Kyle, Jeff Brink (another senior), and I all in the rotation and contributing for the team.  I appreciate that a lot." McQuaide Said.
He later mentions his looking up to his own teammates, like his quarterback, Nick Zeiser. One of McQuaide's most memorable moments of him was when he got his chin sliced open in their game against Moeller. Zeiser played the rest of the game, which inspired Jake and showed him the backbone of strong teams.
I also asked generally about being a long snapper, in which he said, "Snapping really started as a way to keep playing football after high school (I wasn't good enough at tight end to play D1)."
"Once I got to Ohio State, the dynamic changed a lot.  Everyone there is expected to make it to the league," McQuaide said.
"So, that became what I expected of myself and what I started working toward.  Fortunately, I was surrounded by a lot of great people there and got my shot.  What I do is nothing close to what guys like Rudy, Ricky Brown, Eric Wood, or Tommy Kraemer are doing.  That's an entirely different level.  Those guys are freaks.  But, snapping has been great to me and I take it very seriously.  It has provided an incredible life for myself and my family. "
With that, I believe it is clear to me now that Elder has such an outstanding culture that anyone can succeed. The school's faculty and staff are there for you no matter what, and every single one them is an excellent mentor. Truly, Elder is a place for success and as we know now, success may come easier if you can long snap.
Leave a Comment
About the Contributor
Greg Carlton '23, Staff Writer
"Ooooo, Denzel Ward! You had barbecue back there? And you didn't invite me? Hurt. My. Feelings!" - Gus Johnson