Tom in Tampa: the football great still has it
Leaving Foxborough, Belichick and the Patriots, Brady proves his worth as he heads to Tampa Bay and makes his way through his first season as a Buccaneer.
Although Tom Brady is now 43 years old and is currently playing in his 20th NFL season, it seems as if his game has not changed a bit. Since his first game as a starter in 2001, Brady has proved to football fans around the world that he truly is one of the greats.
Playing 19 seasons as a New England Patriot, Brady led the team to nine Super Bowls, ultimately winning six of them. Although Brady was arguably the driving factor in the team's almost two-decade long success, along with head coach Bill Belichick, he had some outstanding athletes to help him out. Players like Rob Gronkowski, Sony Michel, Troy Brown, Deion Branch, and many others helped Brady offensively for the past 19 years.
However, looking for a new challenge after almost two decades as a quarterback for New England, Brady decided to opt out of a contract extension with the Patriots in March of 2020. Brady announced that he would head down to Florida to continue his NFL career as a Buccaneer.   This would be his first time playing for a team other than the Patriots. As expected, many football fans were left in a state of shock at the idea of Brady playing in a different city, some questioning whether he would be able to perform at the same level he had with the Patriots.
Tom Brady would not be alone in his journey down to Tampa Bay, though. Teammate Rob Gronkowski, a New England tight end who was also another weapon in the Patriot offense, decided to step away from his year-long retirement from football to join Brady in Florida, with the permission of New England who still held his rights.
Now, as we head into week 6 of the 2020 NFL season, Brady is proving that the shift in teams is nothing that can stop him.
Although taking a loss to the New Orleans Saints in week one, Brady clearly was not messing around in week two. With the Carolina Panthers making the trip down to Tampa Bay to face off against Brady and the Buccaneers for week two, Brady came out victorious, defeating the Panthers 31-17.
Since then, the Bucs have defeated the Broncos in week 3 and the Chargers in week 4 but lost to Bears in week 5.
At this point in the season, Brady has thrown for 1,375 yards, and he has also thrown 12 touchdowns. In both stats, Brady is in the top ten leading quarterbacks in the league. Therefore, while some may argue that his age is slowly catching up to him, he is still outperforming many other quarterbacks in the NFL, who may be 15-20 years younger than him!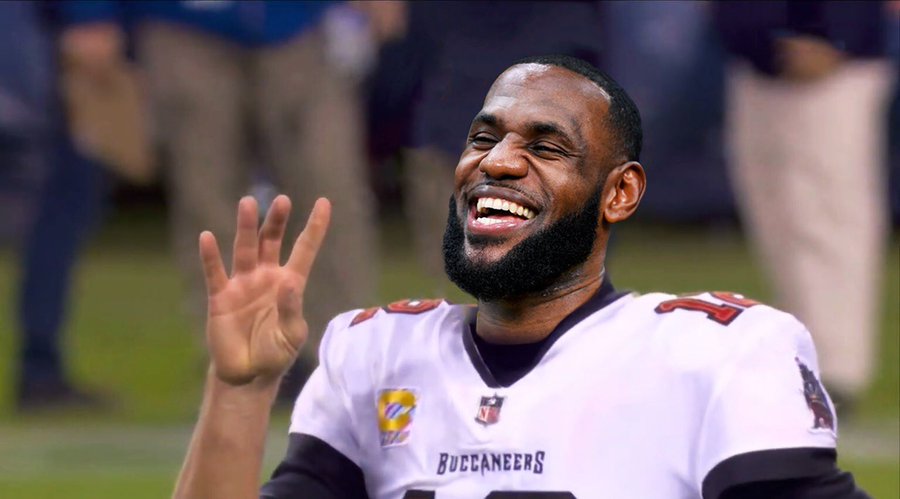 Despite Brady having a pretty solid season so far, that's not to say that he has gone without mistakes so far. During the Bucs' week 5 game against the Chicago Bears, Brady apparently lost track of what down his team was on. Brady's gaffe quickly became the talk of the NFL world, resulting in him even making a meme about himself when congratulating LeBron James on his recent NBA Finals win.
If we are being realistic though, credit should not 100% be given to Brady. The Bucs powerhouse offense as a whole is the main reason for their success, with TeamRankings.com giving the Bucs a power ranking of #5 in the NFL, with other roster names including: Rob Gronkowski, Leonard Fournette, Mike Evans, etc.
Whether you like or dislike Brady, it's pretty hard to deny at this point in his career that he's one of the best, if not the best, football players of all time. While Brady may not be having the most outstanding and perfect season ever, it seems that his decision to play down in Tampa Bay did not have much of an effect on his greatness. Also, Brady's 2020 stats have shown that he is currently outperforming many other NFL quarterbacks, and he is on track to throw for over 4,000 yards this season.
While we will probably not be seeing Tom Brady and Gronk play in Super Bowl 55, it is definitely exciting to see the duo back in action, especially in a whole new environment from New England. Tom Brady may be a 43 year old quarterback playing his 20th season in the NFL for a whole new team for the first time in his career, and while there have been a few bumps in the road this season, Brady is proving that he still has it and that neither he nor his career will be slowing down anytime soon.
Leave a Comment
About the Contributor
Jack Sheridan '22, Co-Editor-in-Chief
"Whoa, woah...Lois, this is not my Batman glass" - Peter Griffin